Performance introduction:

1. PLC and touch screen control can realize manual and automatic control. It can realize automatic control, exhaust, temperature control, curing time, alarm and mold opening and discharging functions; touch screen timely displays the hot plate temperature in the heating area.
2. The hydraulic cylinder is made of ZG270-500, and the plunger is made of dense textured cold-hard alloy cast iron, which is cast after fine grinding; the hydraulic cylinder is sealed in the form of YX-type sealing ring.
3. The hot plate adopts the edge of the hydraulic automatic iron pan, under the action of the four-cylinder hot plate, it is on both sides of the gasket at the same time; the hot plates at both ends of the device to prevent the gasket from overlapping.
4. Each heating zone of the electric heating plate is equipped with a set of temperature regulating valve groups. Under the control of PLC, the temperature of each heating zone of the electric heating plate is uniform.
5. Hydraulic system: Use well-known hydraulic systems at home and abroad.


Code

KN

Heating Plate Dimension
L*W (mm)

Total Power (KW)

Heating Power (V)

Voltage (V)

Weight (KG)

Dimension
L*W*H (mm)

LX=S07

50

300*300

4

7.5

AC/380

450

1000*1500*1200
---
Supporting Facilities:


LX-S06 Silicone Color-matching Machine
is used in the production process of rubber or silicone products. The raw materials are mixed into mature rubber and then vulcanized to make finished products. It can also be called color matching machine or batching machine. After passing through the rubber mill, it is refined into the color required for the finished product. The rubber mixing cycle of this machine is generally 2.5--3 minutes. There are several different specifications such as 6-inch, 9-inch, 12-inch, and 16-inch. The capacity is 10-45KG, and the maximum volume is 650L.


Machine Parameter

| | | |
| --- | --- | --- |
| Code | LX-S06-A | LX-S06-B |
| Roller Diameter(mm) | 150 | 230 |
| Roller Length(mm) | 500 | 600 |
| Roller Space(mm) | 0~10 | 0~10 |
| Ratio Between rollers | 1:1.2 | 1:1.2 |
| Material Weight(KG) | 10 | 10~20 |
| Total Power(KW) | 4 | 7.5 |
| Voltage(V) | AC/380 | AV/380 |
| Weight(KG) | 800 | 1500 |
| Dimension(mm) | L960*W630*H1150 | L1100*W800*H1400 |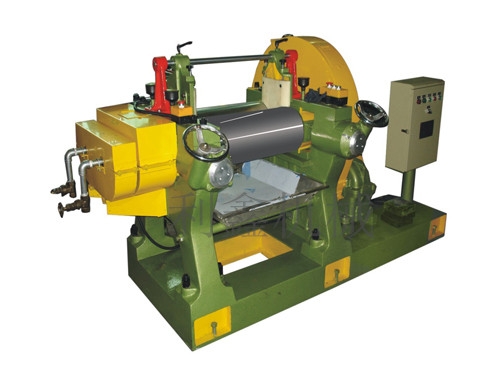 LX-S08 Solid Silicone Cutting Machine
mainly to divide the large piece of cooked rubber produced in the rubber mixing machine into the required small pieces of clinker. The machine automatically cuts and stops automatically, and has fast speed, accurate positioning, small footprint, convenient and simple operation, suitable for Any silicone products.

Machine Parameter

| | | | | | | | | |
| --- | --- | --- | --- | --- | --- | --- | --- | --- |
| Code | Cutting Width(mm) | Cutting Length(mm) | Cutting Thickness(mm) | Control System | Motor(KW) | Voltage(V) | Weight(KG) | Dimension(mm) |
| LX-S08 | ≤520 | 0.1~500 | 1~10 | PLC | 0.12 | AC/220 | 180 | L1000*W800*H1150 |